This design style provides ideal storage space for the many little things in life. At the same time it is a functional kitchen for the hobby chef. The plants in the middle of the island add a special highlight.
The new top-mounted units with door form a modern dresser with function. Particularly practical here is the Tandem solo functional unit with its shelves for provisions and the Leman corner unit for pots and crockery.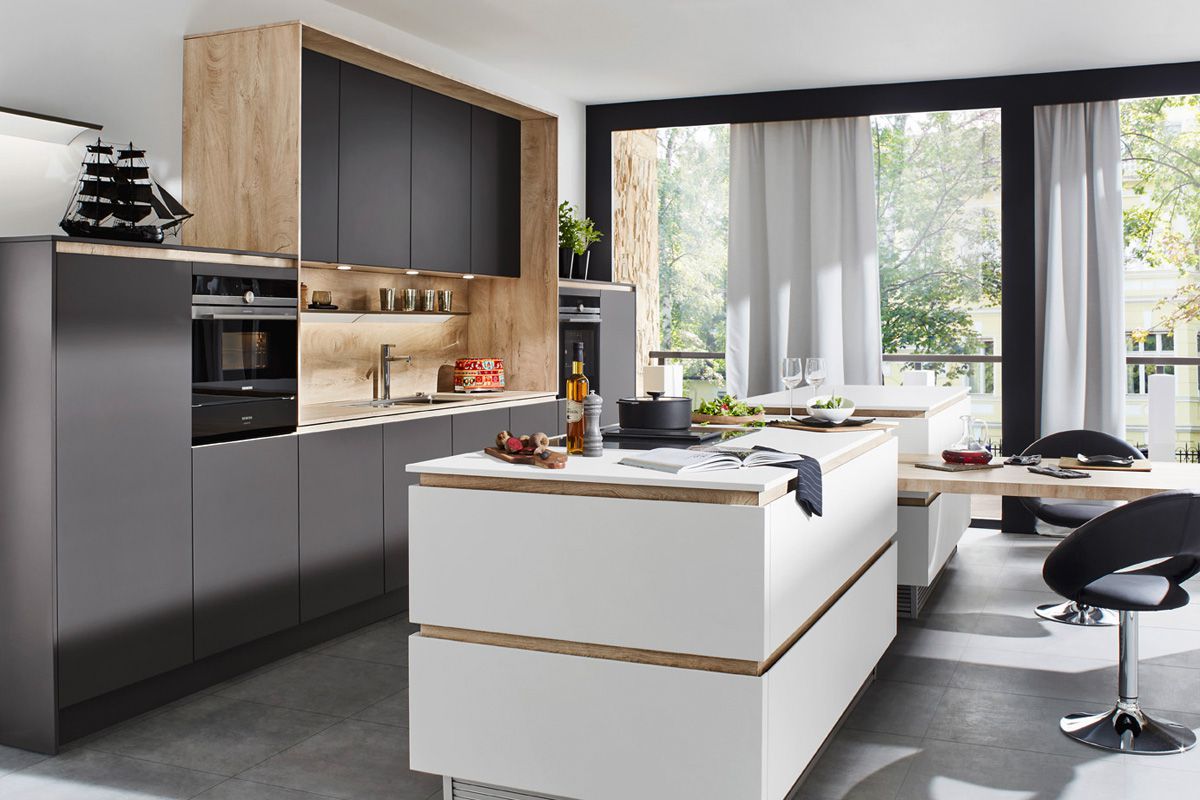 It is details that separate the ordinary from the extraordinary. The practical interior design of the pull-outs ensures order. Alongside the oven, the internal pull-outs provide ideal access to supplies and kitchen utensils. The elegant, flush fitted inset sink module is integrated into the recess unobtrusively.
The classic framed front in a light vintage style. The Riviera Maison style is brought to the fore here, giving the feeling of being in a French country house.
Appearing to be real wood lacquered in black, the Sherwood oak decor with a multi-layer melamine resin structure that gives the high quality feel.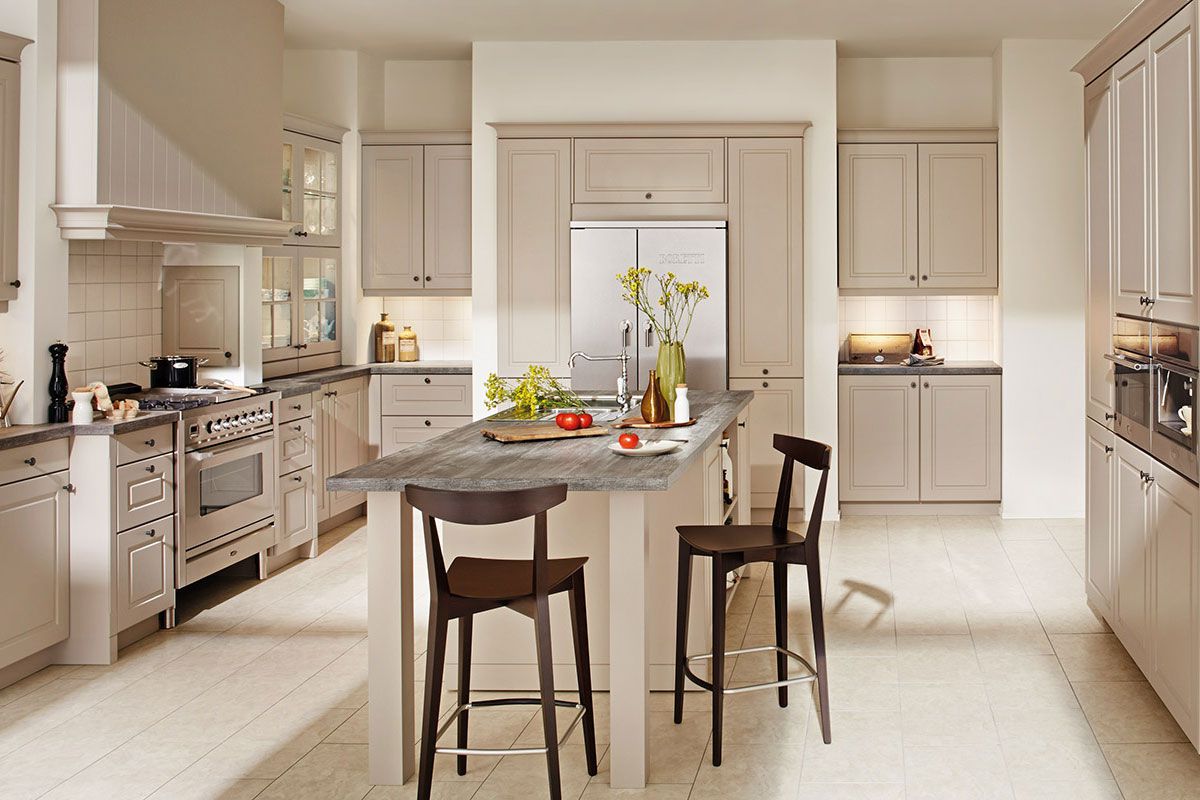 A kitchen style that radiates pure cosiness. A kitchen for life, that is not subject to any fashion trends. That is to say, a true evergreen. Fitted throughout with country kitchen elements and, naturally, also with cornice and light pelmet. All fronts are individually hand finished and adapted to the line layout.
Glass front in white, combined with Cubanite. Cubanite, a stylish carcase and front colour. A colour tone that matches neutrally to all colour nuances and looks sophisticated thanks to the shimmering metallic effect. The sliding doors unify storage space and functional areas. The small knob underlines the purism of the sliding elements.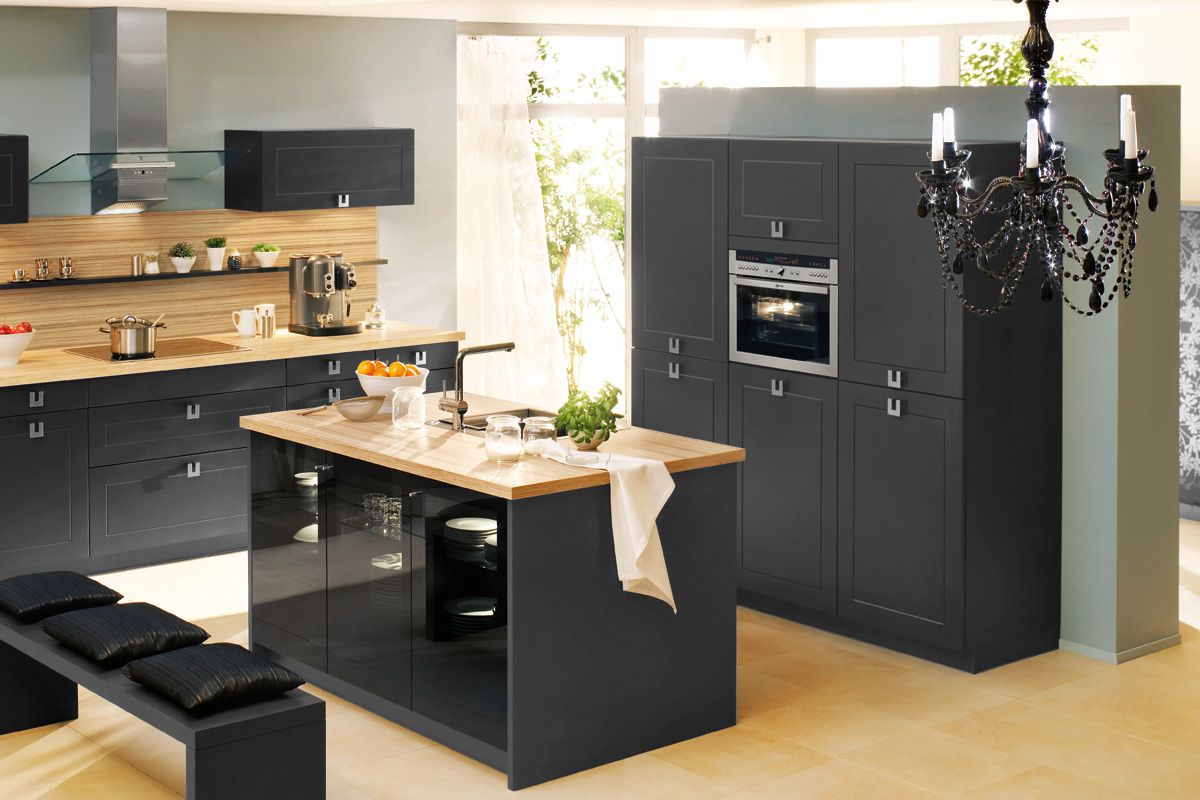 The front in textured lacquer with a modern romantic frame effect appears modern and elegant in graphite grey. The anthracite coloured carcase interior has a particular value. The kitchen design is made up of three blocks; the tall units for storage space, the cooking row and the island for preparation work.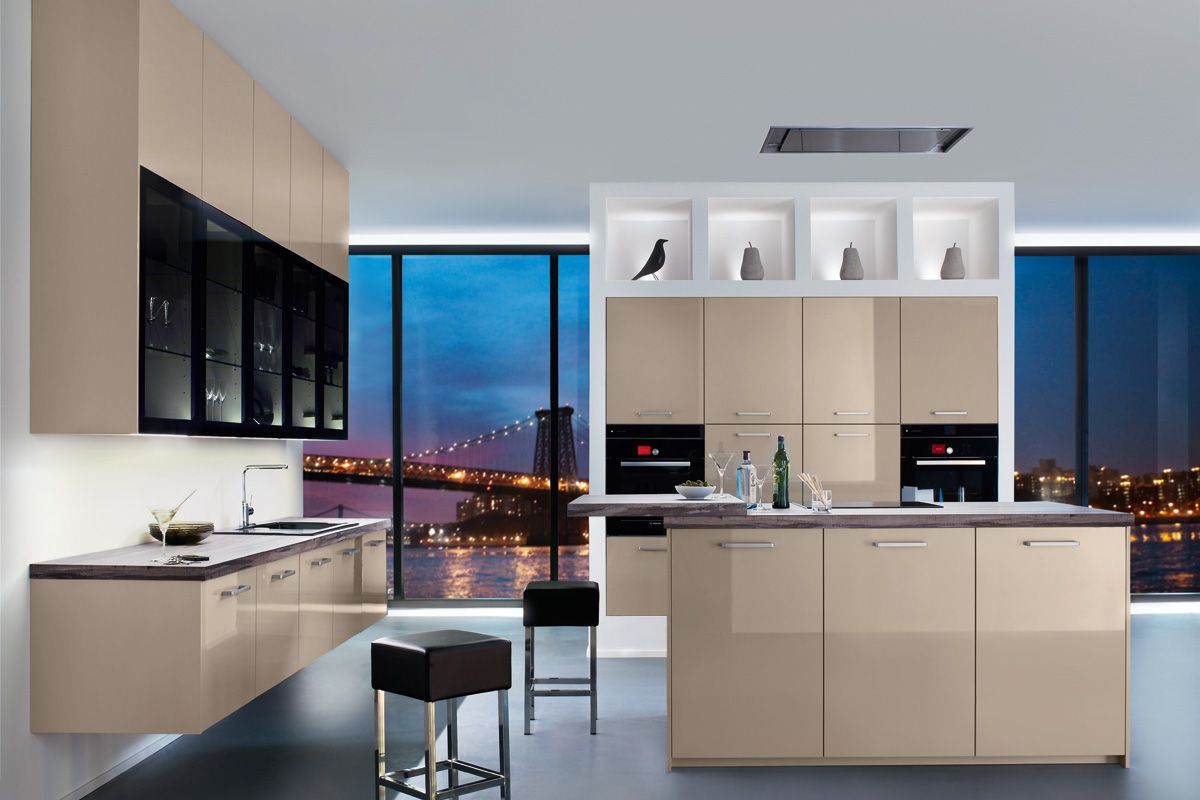 This kitchen in the open living room design is effective thanks to the free-standing functional cooking/preparation row, storage space and the sink row, which with the free-hanging base units has more of a living room furniture character.
The small bar next to the hob invites people to enjoy a cocktail before cooking begins.
The finish and the decor give the kitchen the appearance of a carpenter's masterpiece made of solid oak, which is underlined by the new wall unit layout. The 20 cm wide blind panels of the island of panel material accentuate the solid effect of the wood appearance. The island is an ideal combination of handleless units and tall units with handles. The Isodara beige worktop with stone effect matches the Castell oak very well. The Castell oak carcase appears to be a solid body and is extremely low-maintenance.